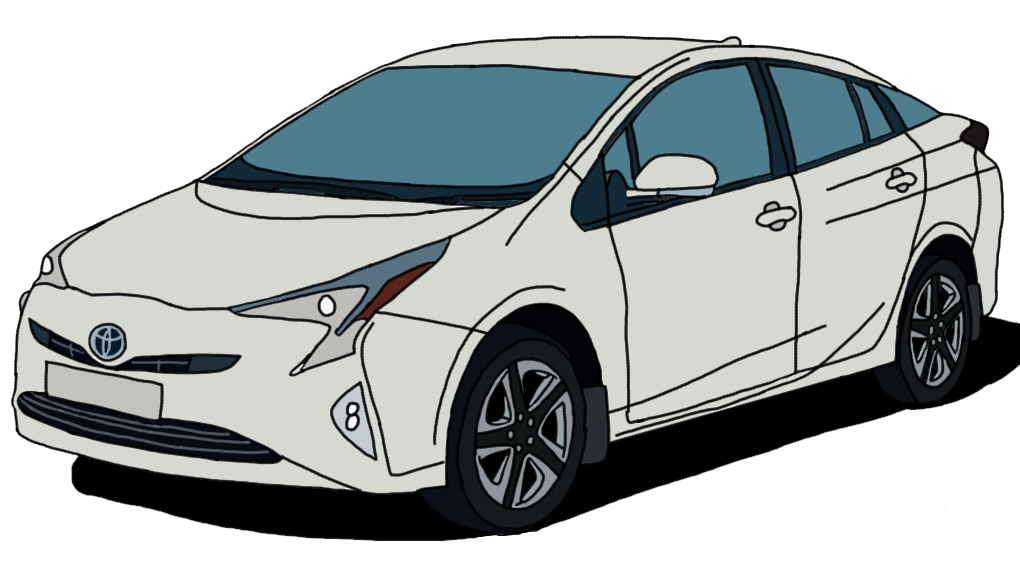 Fully Electric Toyota Prius
About
The initial idea was to take use two scrapped cars to make a new and improved one. An electric car scrapped for structural damage could give cheap electronics and an ICE non-runner would provide a new home for the electronics. Before we do this however, we want to start smaller. Let's convert a Prius to all-electric. Along the way we have to get a Prius, do some mechanical work, convert to plug in hybrid, hack inverter and finally convert to full electric.
Timeline
Acquire Prius 💰

First of all, we need a Prius! We managed to find a fantastic deal on DoneDeal.

Related Posts:

Make into a roadworthy Hybrid Vehicle 🔧

The Prius we got has some issues with it. The steering rack is loose and very dangerous, there are many cosmetic faults and there is other maintenance like new tyres and bushings that must be completed.

Related Posts:

Convert prius to a Plug-in Hybrid Vehicle 🔌

Now that we have a roadworthy Prius, we can convert the car to a Plug-in Hybrid. The battery in the Prius is too small, so this must be modified. A charger is needed to charge said battery also. All this must be done while keeping the rest of the car happy :D

Remove ICE and convert to all-electric ⚡⚡⚡

We should have a Plug-in Hybrid Vehicle by now. This means that the battery system in the car should be suitable for charging and running on all-electric power for long distances. The Internal Combustion Engine (ICE) can be removed. Now that the engine is removed, both motors can be used to drive the car. We need to maximise the power from these motors also.
Updates
ADC Measurements The high voltages on the inverter can be measured using the isolated voltage measurement signals. The following formula can be used to calculate the actual voltage from the scaled signal:…

The traction battery of our Prius needs to be replaced. The main problem with the original battery is that there is no Battery Management System.…

The Prius Gen 2 battery ECU has a few design flaws, one of which we have already encountered with our Prius: Battery fires caused by the high voltage connector shorting out 🔥…

The traction battery (the 200 volt battery that powers the motors of the prius) is often a source of many problems with the second generation Prius.…

Charging Connectors 🔌 There are a number of charging connectors The options for different types of connectors are as follows:…

Many of the figures are taken from P112 HYBRID VEHICLE CONTROL manual: http://static.hybrids.ru/files/OfficialToyotaInfo/RepairInformation/RepairManual/HV%20-%20P112%20Hybrid%20Vehicle%20Control.pdf 32 pin connector 🔌 This section will include a pin-by-pin investigation into the details of each of the 32 pin connector pins.…

32 pin connector 🔌 The 32 pin connector enterring the prius inverter will be intercepted by the new conversion board. Another 32 pin connector will connect the new board to the inverter.…

For an overview of the current Prius High Voltage system, got to High Voltage System Overview. This post will outline the plan for converting the Prius to a plug-in hybrid vehicle.…

Battery System Overview 🔋🔋🔋🔋🔌 A simplified block diagram of the battery system Battery ECU : Effectively a Battery Monitoring System (BMS) that monitors the cell voltages and controls the battery blower (Battery ECU teardown by pEEf: https://priuschat.…

The Prius has a few problems that must be fixed in order to make it road worthy. Here is a list of everything to be repaired:…

We bought the prius today off a lad in Ballymun. It cost €1000, which is a great deal. There have not been any Priuses for sale for the same price on DoneDeal in a while.…